A NERF battle between friends for your child's birthday
A new course in France! Join the biggest battle in the world. The most courageous will not let themselves go! Various activities will be on the agenda. Start with combat training and continue with various activities such as target practice.
Afterwards, you can follow various scenarios with real quests such as a castle capture or duels between teams. This activity is available for children aged 8 and over.
This modular course can be composed of more or less material:
Decorations
Nets
Shooting range
Games of skill
Wooden pallets
Tyres
Tactical waistcoats and goggles
NERF pistols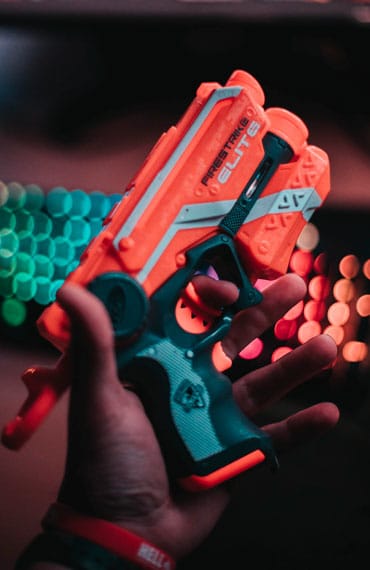 Discover the battle of Nerf
A fun and entertaining activity
Children aged 8 and over meet up for a game of NERF for a fun and exciting time. They can form teams and compete against each other for several dozen minutes. Depending on your wishes, a scenario can be created to offer an even more immersive and personalised experience. Whether your event is for three, five or ten people, the NERF battle promises memorable moments. Children can start by practicing before getting together in two or more opposing teams. Then the battles can begin. The aim is to hit the opponent with foam projectiles to disable them!
Escape-friendly settings
To make children feel transported to another world, the NERF battle is organised in an adapted setting. All the equipment is put in place to offer an immersive moment to the youngest. They will be able to step into the shoes of their favourite hero or of a warrior defending his territory or his cause. Wooden pallets, tyres or a shooting range are set up so that the children can get into the game. In duels or in teams, the children follow a course adapted to their desires and give everything to win the battle!
Excellent equipment
In addition to the scenery, participants in the NERF battle are provided with a number of useful pieces of equipment for this activity. NERF guns are obviously part of the supplies that are given to the children. Each of the young participants has their own gun and ammunition. Foam bullets with rubber tips are lent to them for the game. Before the actual battle, they will have a time defined by the facilitator to practice shooting. In order to protect all the participants, Eklabul also makes waistcoats available to the children. These are loaned with protective glasses.
An unforgettable Nerf birthday party
Once your children are well equipped, all they have to do is have fun. In groups or one on one, they get equipped to go into battle. They can also participate in games of skill or practice at the shooting range before entering the course. Whether indoors or outdoors, children will have a time they won't soon forget. For a NERF birthday party, end of year party or any other occasion, setting up a NERF battle promises endless fun!
Discover our games and equipment