Eklabul's gourmet stands
The gourmet stand delights all sweet tooths. This installation, which allows you to make popcorn and cotton candy, is perfect for an event that brings together children, families, friends or colleagues. This fun stand can be set up on a table, indoors or outdoors, depending on your needs and desires. The sweets and treats prepared in front of the amazed eyes of the children will not fail to satisfy all the gourmands.
This activity can be carried out for a birthday party or any other celebration. It requires little space, but offers hours of fun!
Discover the gourmet stands
The Eklabul Gourmet Stand
You would like to organise your child's birthday party and offer an unforgettable moment to your little guests. You have invited your family for a funfair-themed party and you would like to offer them candyfloss and other fairground treats. Did you know that you can set up a popcorn and candyfloss stand in your home? Read on and your mouth will water.
A gourmet stand, for young and old
What a pleasure to walk through the fairground alleys and smell the tempting odours of sweets! From now on, it is possible to enjoy this pleasure at home. Indeed, we offer you the possibility to set up a gourmet stand during your parties and events. And as children are not the only ones who love sweets, think of our candy stand for your evenings with adults.
Composed of a candyfloss machine and a popcorn machine, our sweet stand will find its place on a buffet or a table. It will fit perfectly into the decoration of your party. This candy stand can be installed indoors, but also outdoors. Do you have a small house or garden and are you worried about having enough space to set it up? Don't worry, our gourmet stand takes up little space, but will undoubtedly leave an unforgettable memory with your guests.
Are you the mayor of a municipality or a company director? You should know that it is possible to install this type of stand during your village celebrations or your company events.
Unforgettable parties for your children
You now know that it is possible to set up a candy stand, offering candyfloss and popcorn at your children's party. However, sweets will not hold their attention for long. You will probably have to find something else to keep them occupied.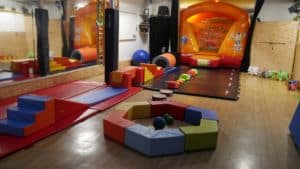 Have you thought about renting fairground games? Your demanding guests will love them! Duck fishing, chamboule-tout and other fairground games will not leave anyone indifferent. And if you want to be sure to hit the bull's eye, don't hesitate to rent an inflatable. It will undoubtedly make you the best parent.
Think about offering them a circus or face painting workshop. This will fit in perfectly with the food stand.
The best entertainment for children with Eklabul
Eklabul is the specialist in entertainment and shows for children on the Côte d'Azur. Would you like to organise a memorable birthday for your child? We offer turnkey birthday parties for your child. Room, equipment and entertainment, you will not have to worry about anything.
Whatever your needs in terms of entertainment and shows for children, Eklabul is by your side. We offer circus shows, magic, games, birthdays and many other types of entertainment. Private individuals, local authorities or company managers, do not hesitate to contact us for more information.