Rent a foam machine for your event
A "Foam Party" is the type of animation that children, but also parents, like a lot. After all, it is not every day that you can have fun, dance, sing, laugh, etc., while taking a giant foam bath! A foam party is suitable for all kinds of events!
A day in the moss in the garden – does that ring a bell? Whether it's a birthday party, a children's party or a christening, inviting a foam machine is always a great idea to set the mood. So why not let the children enjoy this special moment by hiring a foam machine? Birthdays will be totally transformed and the youngest will be able to have fun in a giant foam bath.
A fun atmosphere at your events thanks to the foam machine
You know that a party in a garden full of foam is a success. The youngest will spend hours having fun chasing each other in this fairy cloud, shopping, dancing…
For this you need a "foam machine". This machine will allow you to create a large quantity of foam very easily. To do this, you need the basic equipment, which is basically a machine, some foam liquid and water. One press of the start button and you are the master of foam!
It's the number one tool for creating a unique atmosphere and entertaining children at a birthday party or anniversary. But of course you don't buy this machine (unless of course you are a professional who organises this type of party all year round!)
You will have to contact a professional foam machine rental company.
Eklabul for your birthdays and foam machine hire
To invite foam to all your events (children's birthdays, treasure hunts, house parties for teenagers, etc.) without spending too much money, rental is a safe bet.
But if you have already taken a look at this equipment, you will have noticed that there are several types. The small machine is ideal for a private event. It is easy to move around, takes up little space and has very simple settings. It can be used for an indoor birthday party or to add fun to a garden party.
The industrial machine (or cannon) is larger and more powerful. It can cover a larger area and is very suitable for public places (a community can organise a large treasure hunt in a foam world). However, more water and foam will be needed to create the right atmosphere.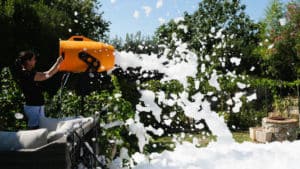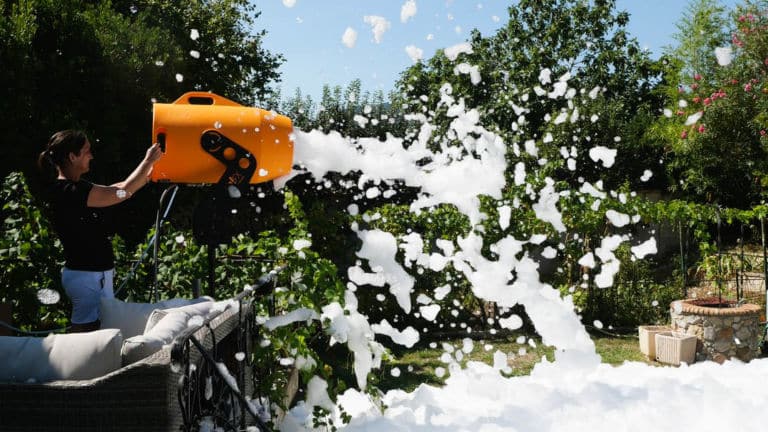 The liquid is also important for a perfect foam (mixture of liquid and water). It should be concentrated between 1.5% and 2%.
A small remark before continuing: the foam from the machine contains water. It is therefore essential to think about this in order to prepare the place of the festivity as well as possible and to ensure safety. It is also important to be able to remove the foam once the party is over.
You have everything in hand, and all you need is the machine? Then you can move on to the next step: machine rental. Contact professionals such as Eklabul, who will offer you quality equipment and valuable advice on how to use it properly.
Need a party professional?
If this seems a little too complicated, you can also entrust your event to an animation and entertainment expert. Eklabul Kids offers you its services in the PACA region.
As well as hiring a cannon, we can also provide sound equipment, lighting and video effects to create a totally unique event that will be remembered for many years to come. We are the specialists to contact to organise your themed parties (pirate, snow queen…) and provide all the technical services you need. Ready to imagine an incredible birthday party? Recreate the magical world of Harry Potter with foam, for example.
You can use a powerful fan to make the foam fly away. The effect is guaranteed!
We work with individuals, communities and companies to create unique festivities. As an artistic and event service provider, we provide equipment rental and can put you in contact with artists (acrobats, jugglers, magicians, etc.) to liven up your events.
Our teams work with you to create a rare moment and entertain the children. If you only want to rent the equipment, we deliver it wherever you want in the PACA region. Our technicians will introduce you to the art of creating a beautiful foam. They install the equipment and come and collect it once the party is over. We have different types of machines and can offer you the right products to make the perfect bubbles.
Want more? We offer our themed events for children. We can offer you everything you need to entertain the youngest: wooden games, inflatables, water games, acrobatic course equipment… Want something else? We can also offer you an introduction to the circus. With us, you will be able to imagine a party or a mini party for the youngest.
Discover our games and pool party equipment