Entertainment for children in hotels
Are you looking for entertainment to keep children occupied in your hotel?  Eklabul offers you top-of-the-range services, with an ever-growing choice of activities to delight parents and children alike!
Our activities are flexible, full-time or part-time…
Young, motivated and passionate, our activity leaders are carefully recruited and trained to entertain all ages…
A kids club is either a one-off activity (swimming pool games, show, bouncy castle, fair…), or a permanent kids club with fixed days and times, an adapted number of leaders, a schedule and animation material.
It is important to know that a new schedule is carefully prepared each week, with different activities every day.
We have the possibility to set up equipment for the season such as a trampoline, teepees, a teenagers' corner or a toddlers' area; depending on the hotel's communication axes, we can also set up specific activities on request such as "eco-friendly" activities.
We have a team of young entertainers who are always motivated to keep the children busy with all kinds of activities such as: theme days, treasure hunts, wooden games, sports activities, water games, creative workshops, bouncy castles… and many more.
For several years now, Eklabul, which specialises in entertainment on the French Riviera, has been setting up a kids club every summer in several well-known hotels, such as the Cap Eden Roc hotel in Antibes, Mouratoglou Resort in Sophia Antipolis and the Château St Martin in Vence.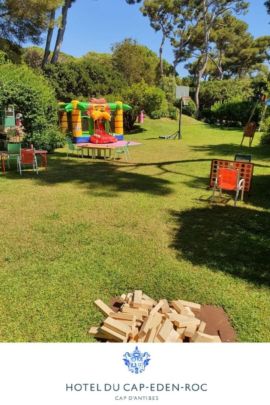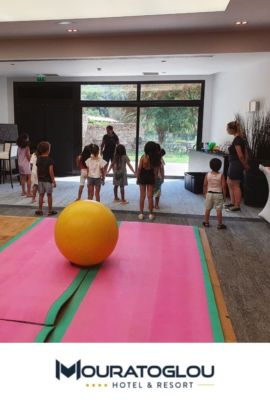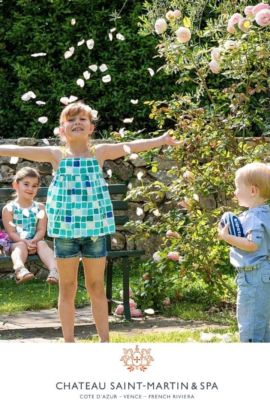 The advantage of a kids club is that it allows parents to take full advantage of their free time without worrying about the children, and that the children can have fun and enjoy their holiday! At the end of the day, the children will have lots of great things to tell their parents! We would also like to remind you that in the context of the current health crisis, the teams are implementing a specific health protocol (masks, gel, cleaning, barrier measures), which will be adapted according to each hotel.Eklabul offers above all a quality service and creativity that will meet your expectations.You too can join the adventure