Introduction to the circus workshop and course for children
Eklabul offers introductory workshops in the circus arts.
The instructors are professional teachers and artists, who offer workshops ranging from simple initiation to advanced training in various disciplines.
These workshops can be held in any type of room or outdoors if the weather conditions allow, with the following programme:
Jonglerie : diabolos, balles, foulards, bâton du diable, plumes de paon, …
Equilibre : échasses enfants, rola bola, boule d'équilibre ou encore fil d'équilibre
Acrobaties : acrobaties au sol mais aussi mini-trampoline
Aérien : initiation au trapèze ou autres disciplines aériennes sur portique autonome
Discover our circus initiation workshops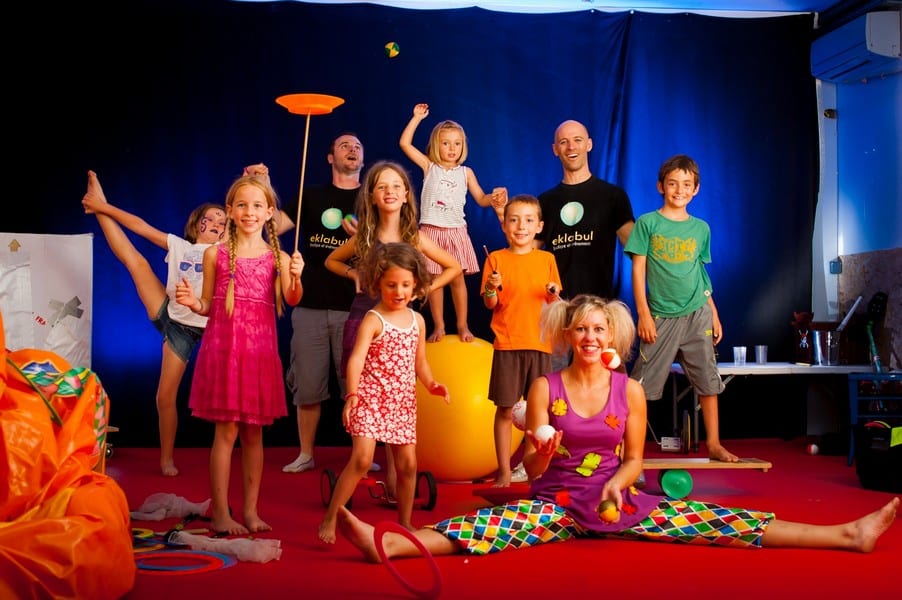 Learn the circus art during an initiation
Children love the circus. They can attend a show that will fascinate them and leave them with wonderful memories. This enchantment can also make them want to learn the circus art for fun or why not become more professional? Whether it's for fun or for training, it is important to follow a quality and supervised circus initiation. Our team of teaching experts is there to help youngsters progress at their own pace. In a fun and playful atmosphere, they can learn one of the four main circus skills: object manipulation – or juggling -, balancing on different objects, acrobatics and aerial skills – the trapeze in particular. Depending on their preferences, children can discover an extraordinary world. They learn to handle a diabolo, have fun twirling balls or a stick. Without even realising it, his or her control of movements and skills will improve.
Introduction to several circus practices
Are you fascinated by bodies balanced on a wire? Would he like to twirl on balls, ride an acrobatic bike or walk for miles on stilts in all elegance? His dream can come true. Does he have a more athletic character? Why not let him have fun on a trapeze above the ground? Or perform acrobatics on land? Is he hesitating? In this case, don't worry, they can try out one or more practices and discover the advantages of each course before deciding. Our teaching team is made up of circus professionals who are both very serious and very empathetic. They will know how to develop the talents of each child by teaching them the basics of each discipline in a relaxed atmosphere. They are also there to help children improve their skills once they have found their favourite activity.
These circus initiations for children can be done at your place, or at any place you wish. We can respond to schools to create original activity sessions. We can also intervene on fairs dedicated to children or summer camps for a high quality animation during the holidays. With interactive activities, children will learn at their own pace while having fun. You will be amazed at the progress they make and perhaps see a vocation being born! Depending on the level, a session can last from less than an hour to 3! Because learning is also fun! Circus arts are an excellent example.