Ask for the services of a balloon sculptor for a creative and impressive activity!
Balloon sculpting is the ideal activity to entertain children. A professional balloon sculptor transforms balloons into animals, plants or objects. A heart, a bear, a hat, a bear, a cat or a bird: the possibilities are endless. Whether indoors or outdoors, this activity surprises and entertains children. In addition to offering them unforgettable moments of fun, this activity allows them to go home with one of the balloon creations. This will put stars in the children's eyes for a long time!
Some examples of balloon sculptures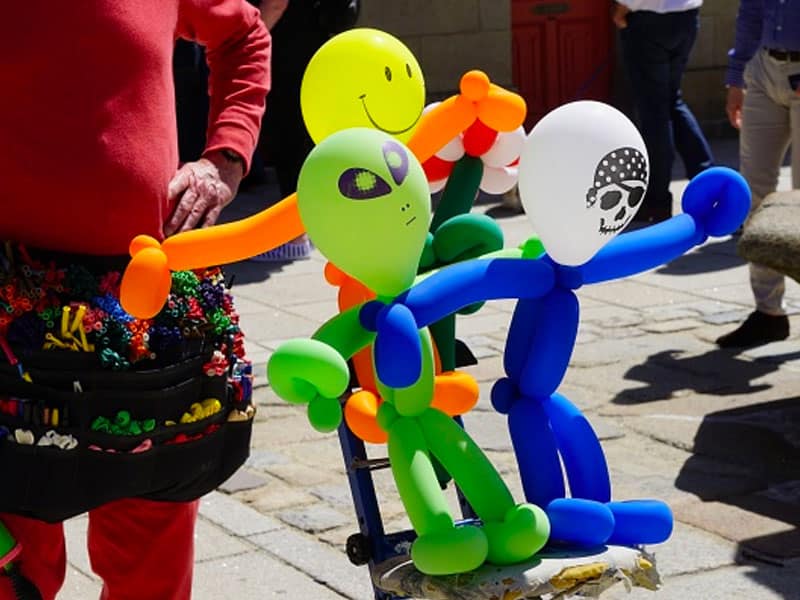 Learn the different techniques of balloon sculpting
Balloon sculpting is an activity that appeals to all audiences. Children will enjoy discovering this imaginary world where ordinary shapes can become real works of art in a few turns of the hand. They will enjoy learning the techniques and offering their creations to their parents or having fun with them. It is also an activity that will appeal to adults who will put their imagination into action to create unique models with a few manipulations.
Whether static or walking around, the balloon sculptor is an eye-catcher. They can work in a shopping centre during a special event, at a trade fair or even in a day-care centre. From the very simple sword to the most complex elephant, everything is possible. Ideal for a child's birthday party or to occupy the youngest at a wedding, balloon sculpting requires dexterity and imagination. It is an opportunity for children to learn to use their hands without having to use dangerous tools or carry heavy loads. The child will not be bored because creating a simple shape is done quickly, they will simply be fascinated by the objects that take shape before their eyes and will undoubtedly want to do the same! Creating an animal will then be a moment of magic. And as he learns quickly, he will quickly be able to create sculptures that are more and more difficult according to his desire.
Imagining your balloon, a unique moment
But even if it seems simple, it is only an illusion! In fact, you can't just improvise a balloon sculptor! You need great dexterity and a sharp eye to see the shape being born. You also need to have learned to use these air-filled shapes with precise gestures that are both delicate and safe. The instructor will listen to the youngest children with a great deal of pedagogy in order to share his or her passion with them. Calling on a balloon sculptor is a guarantee that your children will have a unique time. Creating multicoloured butterflies that will take flight or a magnificent castle, imagining small or large things, monochrome or multicoloured, it is also a unique show full of magic. Balloon sculpting is an animation that can be enjoyed by the elderly as well as adults of all generations. One can, in fact, just watch the enchantment of the practice.
Our entertainers can fit in perfectly with the event by dressing up in the theme of your choice. A school party, a tea party, a birthday party, a show, every celebration will be more intense with a quality animation, easy to set up and without any danger. Each creation can be taken home with the child so that he/she will remember this unique moment for a long time.